Will this be given the attention it deserves? Many already know Barack Obama's allegiance to the Muslim Brotherhood, but few likely are aware of a pact signed in 2013 that directly linked the Obama White House, the Muslim Brotherhood, and the ISIS-backed Egyptian terror organization known as

Ansar all-Bayt.
Reader, please share this with others you know.
WARNING: GRAPHIC IMAGE
The above image is the recent work of Ansar all-Bayt, an ISIS-backed Egyptian terror group who beheaded four men suspected of spying for Israel.
In December of 2013, the Muslim Brotherhood signed a pact with Ansar all-Bayt, a Sunni fundamentalist terror organization with direct links to al-Qaeda and is also suspected of receiving significant funding from Saudi Arabia.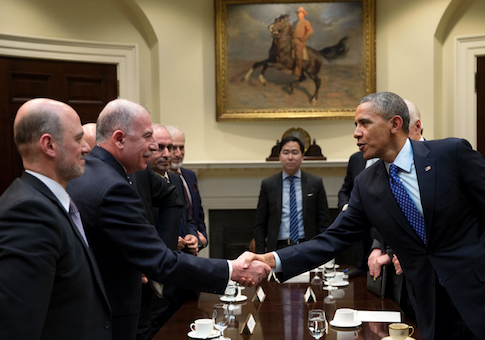 The above photo was taken inside the White House in April of 2014. It shows Barack Obama meeting with
Anas Altikriti,
a top Washington D.C. lobbyist for the Muslim Brotherhood, whose father heads the Muslim Brotherhood in Iraq.
It was shortly after this meeting that ISIS forces began pushing into Iraq.
Just prior to his now infamous 2009 speech in Cairo, whispers generated of senior adviser Valerie Jarrett's insistence that no fewer than ten members of the Muslim Brotherhood be invited to attend the speech. This demand was largely ignored by most news agencies, but the Atlantic did provide this blurb:
Various Middle Eastern news sources report that the administration insisted that at least 10 members of the Muslim Brotherhood, the country's chief opposition party, be allowed to attend his speech in Cairo on Thursday.
When then-head of the Muslim Brotherhood, Mohamed Morsi, was brought to power in Egypt shortly after Barack Obama came to power in the United States, the Obama government was quick to push for an expansive arms deal for the Muslim Brotherhood regime.
And then there are these more recent (and shocking) words in praise of the U.S. branch of the Muslim Brotherhood from Barack Obama himself, where the president states how Muslims have contributed to America's "national fabric":
As you listen to the words of praise for the Muslim Brotherhood by Barack Obama, look again at the photo of the decapitated bodies above. Those deaths were carried out by an extension of the Muslim Brotherhood.
ISIS itself is an extension of the Muslim Brotherhood.
Our own media refused to report the fact that in 2013, Egyptian lawyers
actually charged Barack Obama for crimes against humanity
for his support of what they deem a brutal terrorist organization. Those lawyers are correct in their linking of the Obama administration with the current and horrific violence now spreading throughout the Middle East and if the terrorists succeed, to your own backyard as well.
RELATED STORY:
ISIS Crisis: "THE LIE IS BEFORE YOU, AND THE GRAVE IN FRONT OF YOU."