Crisis of Character: A White House Secret Service Officer Discloses His Firsthand Experience with Hillary, Bill, and How They Operate
By Pam Martens and Russ Martens: June 6, 2016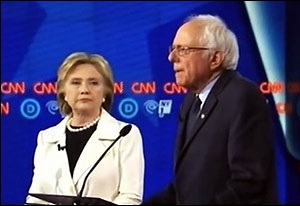 Hillary Clinton Debates Senator Bernie Sanders on CNN, April 14, 2016
Tomorrow marks the final Super Tuesday of the primary season when voters in six states head to the polls: New Jersey, Montana, North Dakota, South Dakota, New Mexico and delegate-rich California, with 475 pledged delegates up for grabs in California alone.
As the closely watched California showdown between Senator Bernie Sanders and Hillary Clinton approaches, with polls showing them running neck and neck, commentary in major newspapers continues to question if Clinton is the right person to lead her party.
Last Tuesday, Douglas Schoen, who was actually a political adviser to President Bill Clinton, wrote in an article in the Wall Street Journal that was headlined "
Clinton Might Not Be the Nominee
" that a vote on changing the rules on superdelegates at the Democratic convention in July might flip the tables on a Clinton candidacy. Schoen wrote:
"There is every reason to believe that at the convention Mr. Sanders will offer a rules change requiring superdelegates to vote for the candidate who won their state's primary or caucus. A vote on that proposed change would almost certainly occur — and it would function as a referendum on the Clinton candidacy. If Mr. Sanders wins California, Montana and North Dakota on Tuesday and stays competitive in New Jersey, he could well be within 200 pledged delegates of Mrs. Clinton, making a vote in favor of the rules change on superdelegates more likely."
Schoen also points out in the article that polls show that Sanders runs stronger against Trump, writing: "Then there is that other crack in the argument for Mrs. Clinton's inevitability: Bernie Sanders consistently runs stronger than she does against Mr. Trump nationally, beating him by about 10 points in a number of recent surveys."
Other headwinds facing Clinton according to Schoen may be "a definitive ruling by the attorney general" on Clinton's use of a private server in her home for all of her government emails while Secretary of State might come before the July 25 Democratic convention in Philadelphia. Schoen thinks that given the highly
negative report released recently by the Inspector General
of the State Department, "a clean bill of health from the Justice Department is unlikely." He also notes that Clinton's negative rating is almost as high as Donald Trump's "with voters not trusting her by a ratio of 4 to 1."
Adding to Clinton's woes, the New York Post is running
a front cover today
suggesting that Hillary Clinton has a "Jekyll and Hyde" personality. The characterization is based on a new tell-all from a former Secret Service agent, Gary Byrne, who stood directly outside the Oval Office during the Bill Clinton presidency. According to the Post, Bryne claims that "Clinton repeatedly screamed obscenities at her husband, Secret Service personnel and White House staffers — all of whom lived in terror of her next tirade." Bryne writes in the book that Hillary Clinton's leadership style was "volcanic, impulsive, enabled by sycophants, and disdainful of the rules set for everyone else."
The book, "
Crisis of Character: A White House Secret Service Officer Discloses His Firsthand Experience with Hillary, Bill, and How They Operate
," is set for release on June 28, less than a month before the Democratic convention. The Post reports that pre-orders have already sent it to number one on Amazon's bestseller list.
There is also a
noteworthy OpEd
in the Los Angeles Times by Susan Neiman, focusing on how Senator Bernie Sanders won the global Democratic Party primary in a landslide in March, capturing 69 percent of the vote. The primary was organized by Democrats Abroad, the overseas wing of the Democratic Party, among U.S. citizens who live outside the U.S. Neiman makes the following critical points:
"The Sanders proposals that may strike Americans who have never lived in other countries as impractical and outlandish are simply common sense elsewhere — especially in Canada and Western Europe, where the majority of Democrats Abroad voters live. Universal healthcare? The U.S. is the only developed country that lacks it. Family leave? While it is nice that San Francisco just mandated six weeks of paid leave for new parents, Germany mandates 14 months — 16 if both parents share the time spent at home. Free college tuition? Britain recently tripled its college tuition fees, though it's still the case that a year at Oxford will cost you a fraction of a year at a middling American college. In the rest of Europe, free tuition, and interest-free loans for living expenses, are the rule."
On that last point regarding student loans, compare it to
our report on the epic crisis
captured in the letters of despair written by deeply indebted U.S. students to the Consumer Financial Protection Bureau. One name repeatedly pops up in these letters – Citibank, the commercial bank owned by Citigroup – the second largest lifetime donor to Hillary Clinton's political campaigns.
Another headwind for Hillary Clinton is the documentary based on the book "C
linton Cash: The Untold Story of How and Why Foreign Governments and Businesses Helped Make Bill and Hillary Rich," by
conservative author Peter Schweizer. The documentary looks at the foreign money spigot flowing to the Clinton's charity, the Clinton Foundation, and the favors bestowed in return on the donors. The documentary is set to premiere the week of the Democratic convention. (See video trailer below.)
"Now that a second Clinton administration threatens – their scheme from the very beginning – Byrne exposes what he saw of the real Hillary Clinton."
"While serving as a Secret Service Officer, (he) protected President Bill Clinton and the First Family in the White House and outside the Oval Office."
"There, he saw the political and personal machinations of Bill and Hillary Clinton and those who were fiercely loyal to them. In CRISIS OF CHARACTER, (he) provides a firsthand account of the scandals – known and unknown – and daily trials ranging from the minor to national in scale."
"Having witnessed the personal and political dysfunction of the Clinton White House – so consumed by scandal and destroying their enemies, real and imagined – Byrne came to understand that, to the Clintons, governing was an afterthought."
"He now tells this story – before voters go to the polls – in the hopes that Clinton supporters will understand the real Hillary Clinton."
According to Byrne, "she simply lacks the integrity and temperament to serve" as president. She and husband Bill "must never again be allowed to put your children at risk. What I saw in the 1990s sickened me."
Her "volcanic, impulsive" leadership style is "disdainful of the rules set for everyone else…"
Investigative journalist Ron Kessler's book titled "
The First Family Detail: Secret Service Agents Reveal the Hidden Lives of the Presidents
" reported agents assigned to Hillary after husband Bill left office saying protecting her was a detested assignment.
They called her marriage "fake," one of convenience, solely for political reasons, to advance her outsized ambitions.
She's mean and nasty, "really rude to almost everybody," treating people "like (they're) beneath her."
According to Kessler, she once responded to a Secret Service agent's "good morning, ma'am" greeting by saying "(f)..k off."
In public, she smiles and acts graciously. "As soon as the cameras are gone, her angry personality, nastiness and imperiousness become evident."
She "make(s) Richard Nixon look like Mahatma Gandhi." She's arrogant, never thanks agents, treats them like "hired help."
Byrne said "(t)he Clintons treat running the free world like a damn part-time job…Maybe I haven't seen it all, but I've seen enough" to know the crucial urgency of preventing a Hillary Clinton presidency.
Stephen Lendman lives in Chicago. He can be reached at lendmanstephen@sbcglobal.net.
His new book as editor and contributor is titled "Flashpoint in Ukraine: US Drive for Hegemony Risks WW III."
http://www.claritypress.com/LendmanIII.html
Visit his blog site at sjlendman.blogspot.com.
The original source of this article is Global Research