The Justus Lipsius building in Brussels, home of the EU council – and subject to a US survellance programme, according to documents seen by Der Spiegel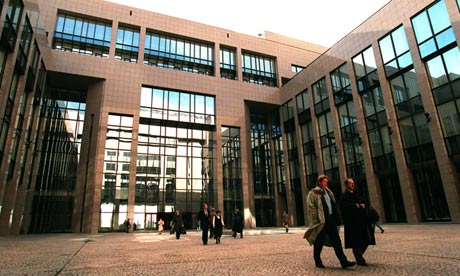 Photograph: Don McPhee for the Guardian >> Key US-EU trade pact under threat after more NSA spying allegations >> Reports in Der Spiegel that US agencies bugged European council building 'reminiscent of cold war', says German minister >>
... However, Simon Davies, an intelligence expert and project director at the London School of Economics who writes the
Privacy Surgeon blog
, suggested the
NSA
's role had been given a sharper focus following amendments to the US Foreign Intelligence Surveillance Act (
Fisa
).
In an interview published in full last night on Davies' blog, former
NSA
director General Michael Hayden said: "The changes made to
Fisa
in 2008 were far more dramatic – far more far-reaching than anything President Bush authorised me to do."
Davies told the Observer that confirmation of the secret agreements showed there was a need for the EU to investigate.
"It's clear that the European parliament must intervene at this point through a public inquiry," Davies said. "MEPs should put the interests of their citizens above party politics and create meaningful reforms."
The covert data-sharing relationship between leading European countries and the US was first outlined in a 2001 report by the European parliament.
The report stated: "Germany and the United Kingdom are called upon to make the authorisation of further communications interception operations by US intelligence services on their territory conditional on their compliance with the ECHR (European Convention on Human Rights)."
>>click for whole story>>http://www.guardian.co.uk/world/2013/jun/30/nsa-spying-europe-claims-us-eu-trade