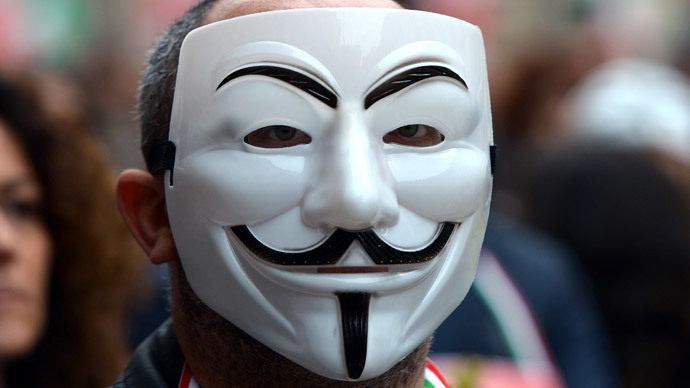 AFP Photo / Gabriel Bouys >> Prosecutors: Barrett Brown and Anonymous 'secretly plotted the overthrow of the government'

February 26, 2014 >>

Get short URL
Has the hacktivist group Anonymous been secretly plotting to overthrow the United States government? Federal prosecutors seem to think so, but attorneys for a Texas man on trial for alleged computer crimes say such isn't the case.
The amorphous, internationally-spread group of hackers and activists isn't actually on trial — in this instance, at least — but secret documents filed in a related matter being heard by the US District Court for the Northern District of Texas suggest that the government interprets Anonymous as being anything but harmless.
Last week, attorneys for imprisoned author, activist and journalist Barrett Brown asked the court that they be able to reply to arguments made earlier this month by federal prosecutors in the case against their client — a 32-year-old Dallas, TX man expected to stand trial in May to face several felony counts, including making internet threats, retaliating against a federal official, fraud, identity theft and concealment of evidence. Brown has been in the custody of law enforcement since being arrested in September 2012.
Of argument, his attorneys wrote in the Feb. 21 filing, are statements the prosecution made earlier this month when they replied to a January 31 motion in which the defense asked the court to dismiss one of three indictments against Brown.
The government predictably opposed the defense's request two weeks later on Feb. 14, but — like much of the nearly two-year-old case— that paperwork is not included among the publicly available files hosted on the online, federal PACER court system, which supporters of Brown presume means it was filed under seal. Whatever its contents, though, the prosecution's filing compelled the defense to request permission from the court to respond. Now according to that latest, public document, information about the prosecution's case — as well as their secret interpretation of Anonymous — is widely available.
http://rt.com/usa/barrett-brown-anonymous-overthrow-912/
[

sidebar

: World War I, when the flesh was gangrene, gold plated inners were the medical use, a half-tube placed over for example, the leg. Maggots were then put into the legs' gangrene and ate the rotted dead flesh. Legs were saved and the obvious visual was not but, what this is, also. Rotted flesh is the so called 'government', that isn't "America". Doesn't matter, third generation Kissinger & Associates' MAGGOTS gotta feed them and their families' .. obviously insatiably gangrene starvation.
http://rt.com/usa/barrett-brown-mother-probation-461/
[

sidebar con't

: Yes this is how ITS' done. First, a MAGISTRATE isn't an Article III Judge and therefore, NOT a U.S. Constitutional Court of REAL LAW, but hey, never matter the BREACH IS OUR PREAMBLE. Yes, this is how ITS' done.
First, convince the PEOPLE that digital dust is gold and then make the people bow down to the lie. Then kick the people when they're down, real hard. Stomp on them, jump on, crash and bash and DOG PILE on 'em, kill 'em whenever, CALLED KICKING THE CAN.
Gotta get rid of the disposable digital commodities, enough are enough and don't need to entertain any digits that don't behave.
Welcome to Ghetto Hell Digital Earth World compliments of the worst of our species? Maybe not 'Homo Sapiens'??
COURTS' ARE RETIRING ON THE FLESH, DEAD NOW & MAGGOTS?
Maggots are known via the rotted USA's collapsed system "Checks & Balances"! Checked the U.S. Constitution's REAL GOOD LAW lately? Well the BALANCING ACT is all about killing as many 'Americans'' that IT takes, to be fully satisfied maggots.
... to be continued ....]
The US Capitol in Washington, DC (AFP Photo / Saul Loeb) May 16, 2014
Get short URL
Operation American Spring: Militias promise to oust Obama, Boehner on Friday
A retired United States Army colonel expects as many as 30 million like-minded individuals will descend on Washington, DC this week and demand that President Barack Obama and other members of his administration be booted from office.
http://rt.com/usa/159244-operation-american-spring-washington/#_=_
http://www.orlytaitzesq.com/
http://www.lawlessamerica.com/