He had been closely involved in negotiating legal issues for Deutsche Bank such as a probe by regulators of banks over allegations they manipulated the Libor benchmark interest rate as well as currency markets, the newspaper said.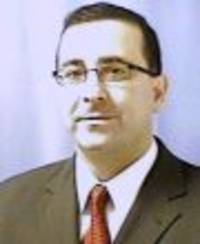 http://www.onenewspage.com/n/Business/750ocuh6d/Deutsche-Bank-Lawyer-Found-Dead-In-Apparent-NY.htm
Rakesh Khurana
Rakesh Khurana is the Marvin Bower Professor of Leadership Development in organizational behavior at Harvard Business School. After finishing his doctorate, Rakesh taught at the MIT Sloan School of Managemen and later at the Harvard Business School. His research focuses on managerial labor markets and the processes by which elites are selected and socialized. He is a prolific writer and thinker and has received awards at the highest level for his writings. He and Nitin Nohria are working with the World Economic Forum and the Aspen Institute to create a business oath, like the MBA Oath, that might be used globally. http://www.atlantadunia.com/Dunia/nriAchievers.aspx?q1=h&qid=70
Mystery Financial Executive Deaths Continue, Suicide or Suicided?

bloomberg.com http://ronmamita.wordpress.com/2014/10/25/mystery-financial-executive-deaths-continue-suicide-or-suicided/
This draws our interest and suspicions as 2 prominent Executives of French corporations unexpectedly die, in the same week, in rare circumstances.
Recall 5 days ago the jet crash during takeoff at Vnukovo Airport in Moscow, Russia – Killing Christophe de Margerie, CEO of Total, a French Mega energy corporation… ~Ron
.
☼


The French-

Israeli (entrepreneur) businessman

49 year-old

Thierry

Leyne

, a p

artner of former

IMF chief

Dominique

Strauss-

Kahn

(DSK) has "reportedly" committed suicide by jumping from the top of one of the tallest buildings in Tel Aviv.
Word on the boulevard is that the Leyne Strauss-Kahn (LSK) Hedge Fund lost a lot $ last week.

Vía Max Keiser http://ift.tt/1sewtgs
Charlie J. Gambino is a Managing Director and Associate General Counsel in the Regulatory, Litigation and Internal Investigation group for Deutsche Bank in the Americas. Mr. Gambino served as a staff attorney in the United Securities and Exchange Commission's Division of Enforcement from 1997 to 1999. He also was associated with the law firm of Skadden, Arps, Slate Meagher & Flom from 1999 to 2003. He is a frequent speaker at securities law conferences. Mr. Gambino is a member of the American Bar Association and the Association of the Bar of the City of New York.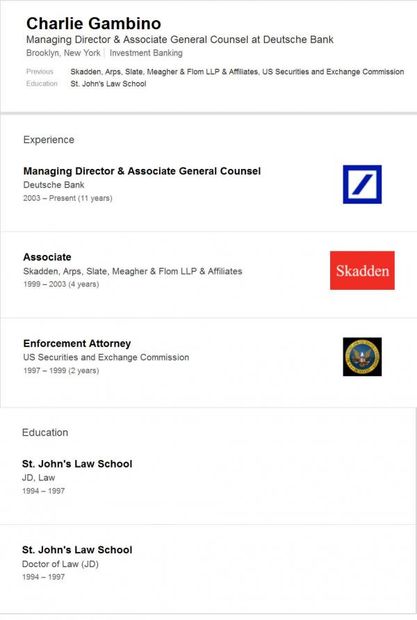 "Charlie was a beloved and respected colleague who we will miss. Our thoughts and sympathy are with his friends and family," Deutsche Bank said in a statement.